Providing Superior Health and Pain Relief Through Chiropractic Care

36 years serving Wilmington and Carolina Beach.
'Chiropractic care is more than just making the pain disappear. It is about learning, understanding and taking care of your body to improve your quality of life. We want to get to the root of the problem, not just mask the symptoms."

We aim to educate our patients about Chiropractic and other natural solutions to common health problems in order to motivate you to take a more active and responsible role in restoring and maintaining your own health and the people around you.
Our web site is "backsandmore.com" because here at Weckel Chiropractic, we treat so much more than just neck and back pain. Since 1987, we have had great success in treating conditions like fibromyalgia, degenerative spinal osteoarthritis, carpal tunnel syndrome, headaches, shoulder problems, disc herniations with sciatica, knee, ankle and feet problems and so much more. No patient is too young or too old to receive gentle chiropractic care. Chiropractic works and experience counts!
As a chiropractor, I understand that although my patients may be diagnosed with the same condition, they respond very differently to treatments. For this reason, we tailor a specific plan of action to meet your needs, goals & unique medical and physical condition and yes, we practice traditional gentle spinal manipulation.

Finding a chiropractor who understands changing health care needs and the most current techniques and approaches to addressing health problems can be a daunting task. We hope that you will find this site helpful in learning more about our gentle chiropractic care as well as the ways that it can improve the quality of your life. Two offices: 5215 Market St. and in the Pavilion at Carolina Beach.
CALL US TODAY! 910-392-3333 We can generally get a new patient in on the same day that you call.
Chiropractic Works and Experience Counts!
---
Dear Patients,

If it works for Nick Kenney and professional athletes, Laser will work for you.
Call us today...this is our Laser.
Click Here for More Information
Dr. Weckel
---
Treating patients with MultiRadiance MR4 medical laser allowing us to better treat 300+ conditions including many extremity conditions like shoulder pain, tennis elbow, carpal tunnel, knee/meniscus pain and plantar fasciitis.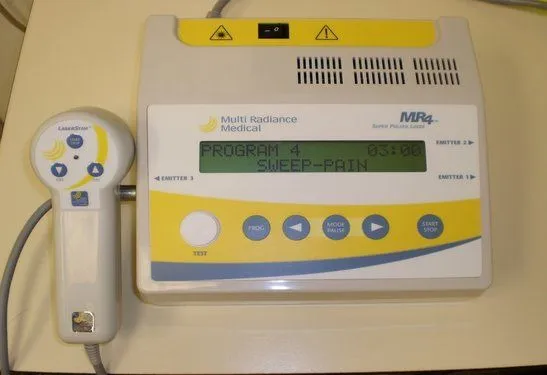 MultiRadiance MR4 LaserStim